Another Kite to Fly
$

15.00
On sale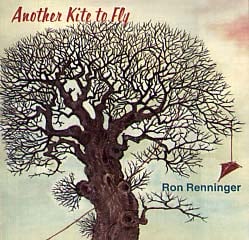 Praise for "Another Kite To Fly" (1996)
SING OUT MAGAZINE:
RON RENNINGER, Another Kite To Fly, (Vienna Virginia 2042850).
There are some great songs here. "The Corner Of Gunhill And Hell" is about growing up where a kiss is a means of persuasion and a lie is a tool you could learn to use well. "Flowers In The Sidewalk" is about being in the wrong place in a relationship. "Twilight" chronicles a dying love that is not quite light, not quite dark and not quite over, although it's not like it was. "Even The Strongest Of Trees" is well-crafted with imaginative images, but suffers from excess repetition of the theme line. The instrumental cuts provide good interludes, almost intermissions, of well-played guitar music. It would have been nice if the liner notes had described the songs, or better yet, contained the lyrics. Renninger's clear voice almost makes up for this lack, though, and he proves to be an excellent writer. On the whole, this one is highly recommended. -- VH
DIRTY LINEN:
Another Kite to Fly, the first solo recording by Ron Renninger, is a self-confessional, autobiographical collection of well written acoustic based songs. Renninger's years as a studio musician shows in the simple but effective use of backing musicians. A couple of instrumentals round out what is an enjoyable set of music.
Track List:
1. Veteran
2. A Place in Love
3. If Time Were a Highway
4. The Corner of Gunhill and Hell
5. Flowers in the Sidewalk
6. Cork in a Bottle (Inst.)
7. Twilight
8. Even the Strongest of Trees
9. Shadows on the Wall
10. Watch Out
11. Only the Rivers Run Free
12. Another Kite to Fly
13. The Truth
14. Nicolai's Nap (Inst.)